We live in Arizona, a state full of cacti and dirt. During the monsoon season, the wind kicks up dirt and debris that get EVERYWHERE. Our cars, patios, outside furniture, and exterior walls are just a few places to name. However, most importantly, dirt affects our air conditioning units. I'm not saying the occasional haboobs we get are the main culprit in having dirty A/C coils, but it requires homeowners to take more action in maintaining their system.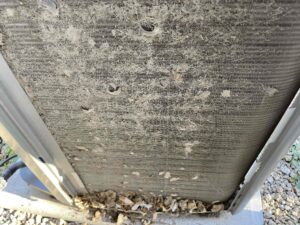 How do my Air Conditioning coils get dirty?
As stated above, we live in a state full of dirt. It's common for dirt buildup to occur over time, but the build-up will happen more quickly and frequently if you aren't maintaining the HVAC system. It's important to remember that dirt buildup varies on each system depending on the environment and how often proper maintenance is performed.
How can I perform proper maintenance on my A/C Unit?
Changing the filter(s) every 30 days or sooner, depending on your environment.
Schedule annual A/C maintenance with a trusted HVAC contractor.
Get needed cleanings done by a certified HVAC technician.
Rinse off your outside air conditioner coils.
Keep dogs away from the outside unit—urine and hair buildup cause expensive damage.
Clear the surrounding area of weeds, plants, and trees. The unit needs space to breathe.
Need a trusted HVAC contractor?
Look no further than Pro Solutions Air! Our office is located in Peoria, AZ, but our technicians service valley-wide, including the surrounding cities of Surprise, Sun City, Buckeye, and more! We offer exceptional maintenance plans that include discounts and waived fees. Ask our dispatcher for more information and to schedule an appointment! 623-229-4389