Does dog urine cause damage to the Air Conditioning unit?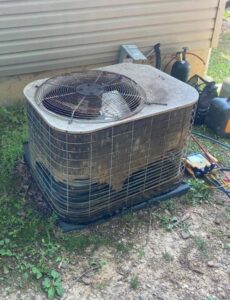 Male dogs love to mark their territory on just about everything including your outside AC unit. If you've never paid attention to the outdoor unit and it is in an area Spike can get to, go take a look at it. It's very common for dogs to urinate on the unit's aluminum fins surrounding the condenser coils. If you can see corrosion and the condenser coils, blame it on the dog because that is who just cost you money!
Will I need to repair or replace the unit if there is corrosion?
Like I said, blame the dog for costing you money! When the copper coils and aluminum fins are critically corroded, you will need to repair or replace the unit.
Should I fence my unit?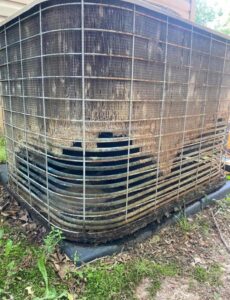 With all this information you just got about precious Fido possibly being the cause of future financial stress, you're probably now wanting to fence the unit off. You can absolutely add a fence around your air conditioning unit and that should keep puppers out, depending on how high he jumps. However, be careful not to put the fence too close, making it difficult for the unit to breathe and technicians to service it.
Schedule regular HVAC system repairs and maintenance
Find a trusted contractor in your area to perform yearly maintenance and perform any repairs and/or recommended cleanings. Dog hair and pet dander gets into your duct system and air conditioning system. The outside unit could be caked with dog hair if your dog sheds and is outside a lot.
For an air conditioning service technician in Surprise, Peoria, and Buckeye, Arizona, call Pro Solutions Air at 623-2929-4389.